2014 Jeep Grand Cherokee Overland versus the Australian Outback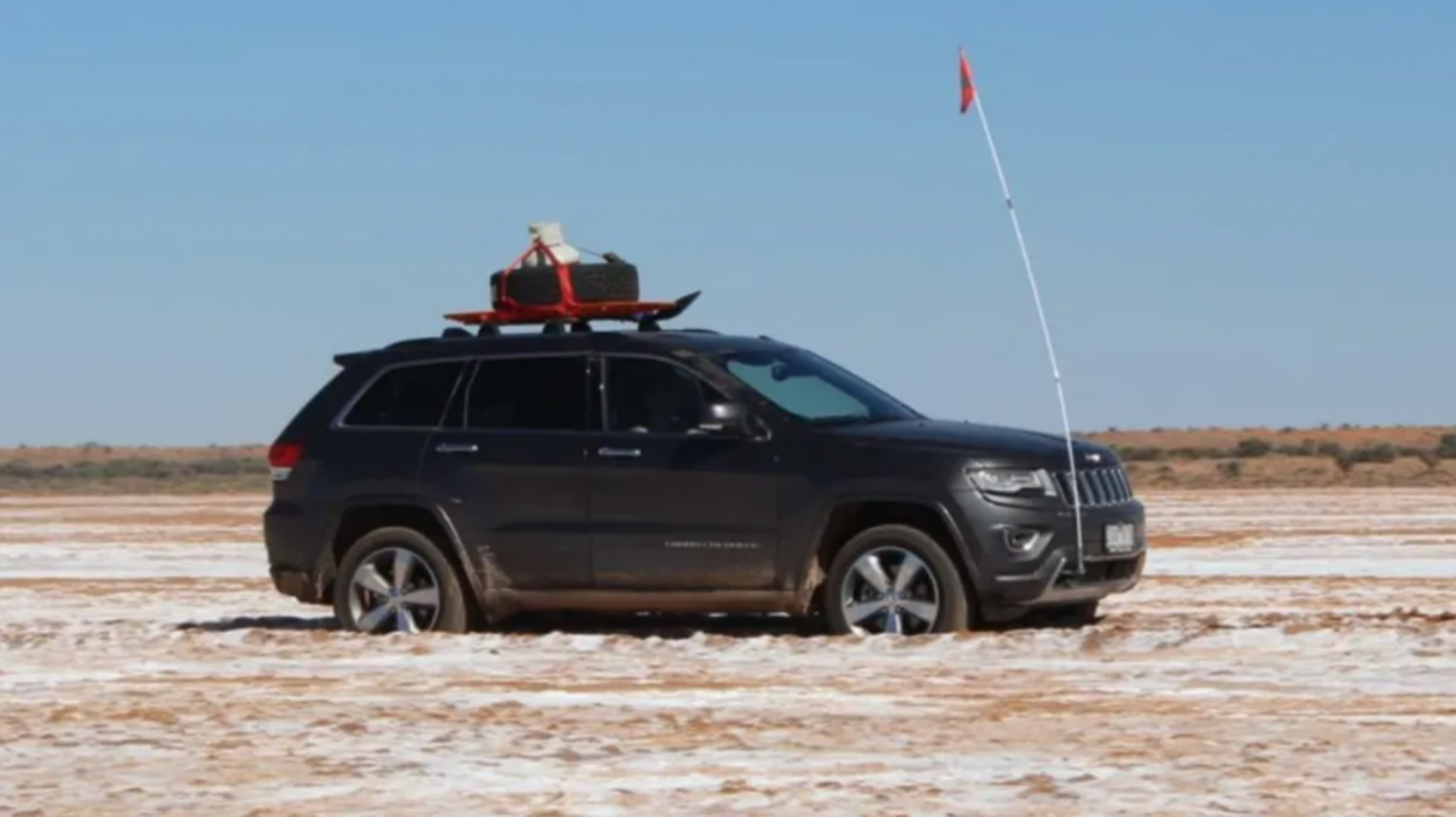 General News, Jeep - 12th November 2021
Since the arrival of the latest Jeep Grand Cherokee in 2011 here at Drive we've always been impressed with its blend of value, comfort, driving competence and 3500kg tow capacity – things that have helped it win three Drive Car of the Year Best 4WD gongs.
And while we've taken Grand Cherokees off-road, we've never done an extended outback test - until now.
Armed with a flagship 2014 Grand Cherokee Overland we decided to put the Grand Cherokee through a thorough test. Almost 3000km – mostly on gravel and sand – and along some of the most remote and unwelcoming roads in the world.
Our trip kicked off in South Australia's Flinders Ranges then headed north up the Birdsville Track. Straight away the Grand Cherokee was put to the test. Deep, sometimes unforgiving bumps – often sighted late and when you're travelling at 80km/h or more – put the adjustable air suspension to some early tests.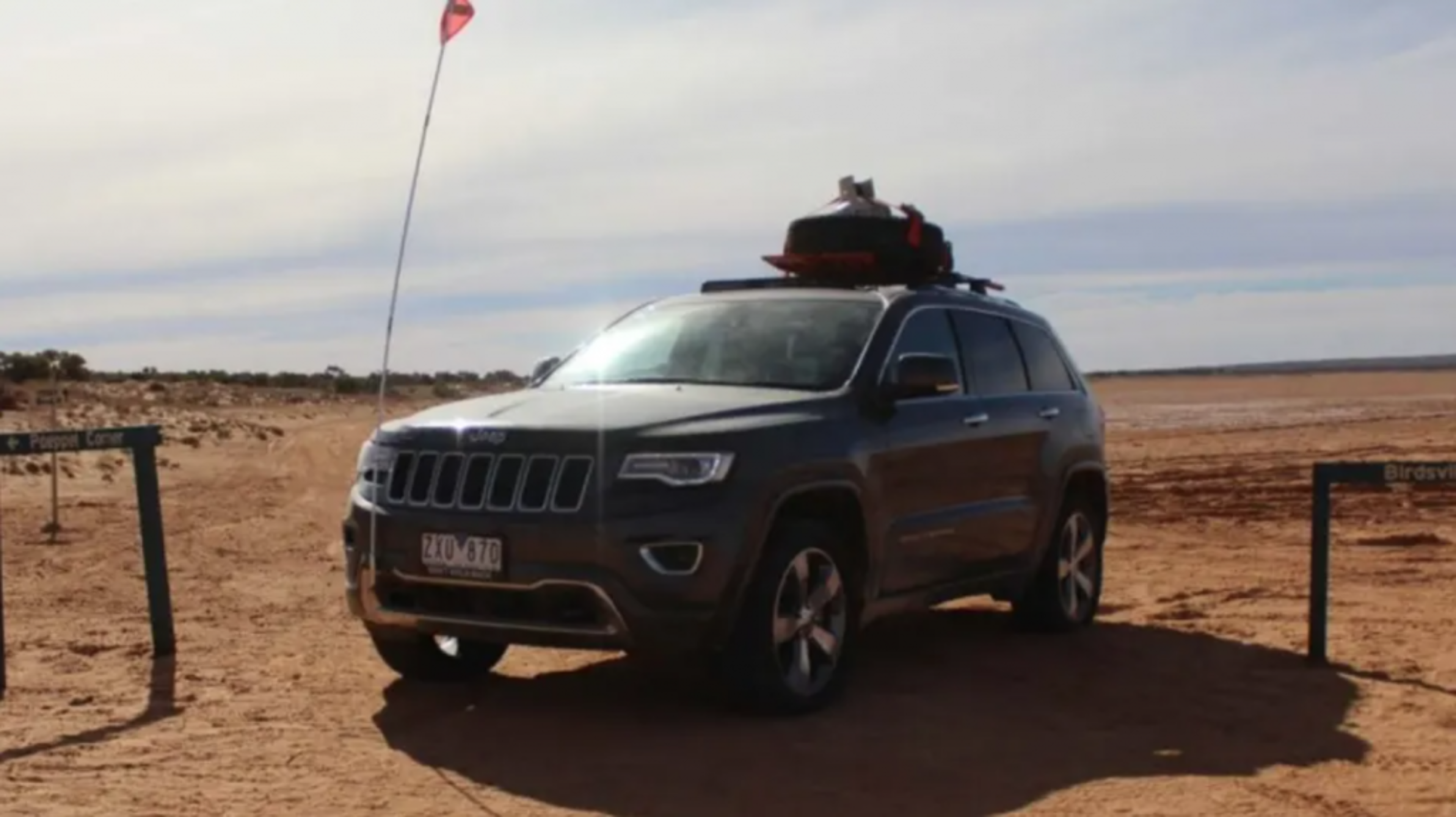 It handles the big bumps well, especially considering the load on board; there's only a single occupant, but there's cooking and camping gear, off-road recovery gear and extra spare wheels and tyres.
Indeed it's those tyres that could prove a challenge. Big 20-inch Kumhos look the business with their low profile side walls and nice alloy wheels, but they're not what most people choose out here. In the outback it's less about handling prowess and more about staying inflated, something chunkier, taller profile tyres typically do better at.
The 3.0-litre V6 turbo diesel was an instant hit, though. Its generous 550Nm of torque makes light work of shifting the heavily laden wagon. Even with the additional higher speed wind resistance of a roof rack it confidently charges towards 100km/h.
As a diesel, the Grand's 93-litre fuel tank also ensures it has a decent driving range. Early fuel consumption was hovering around low-single digits, suggesting a theoretical range of more than 600km - on these roads, at least.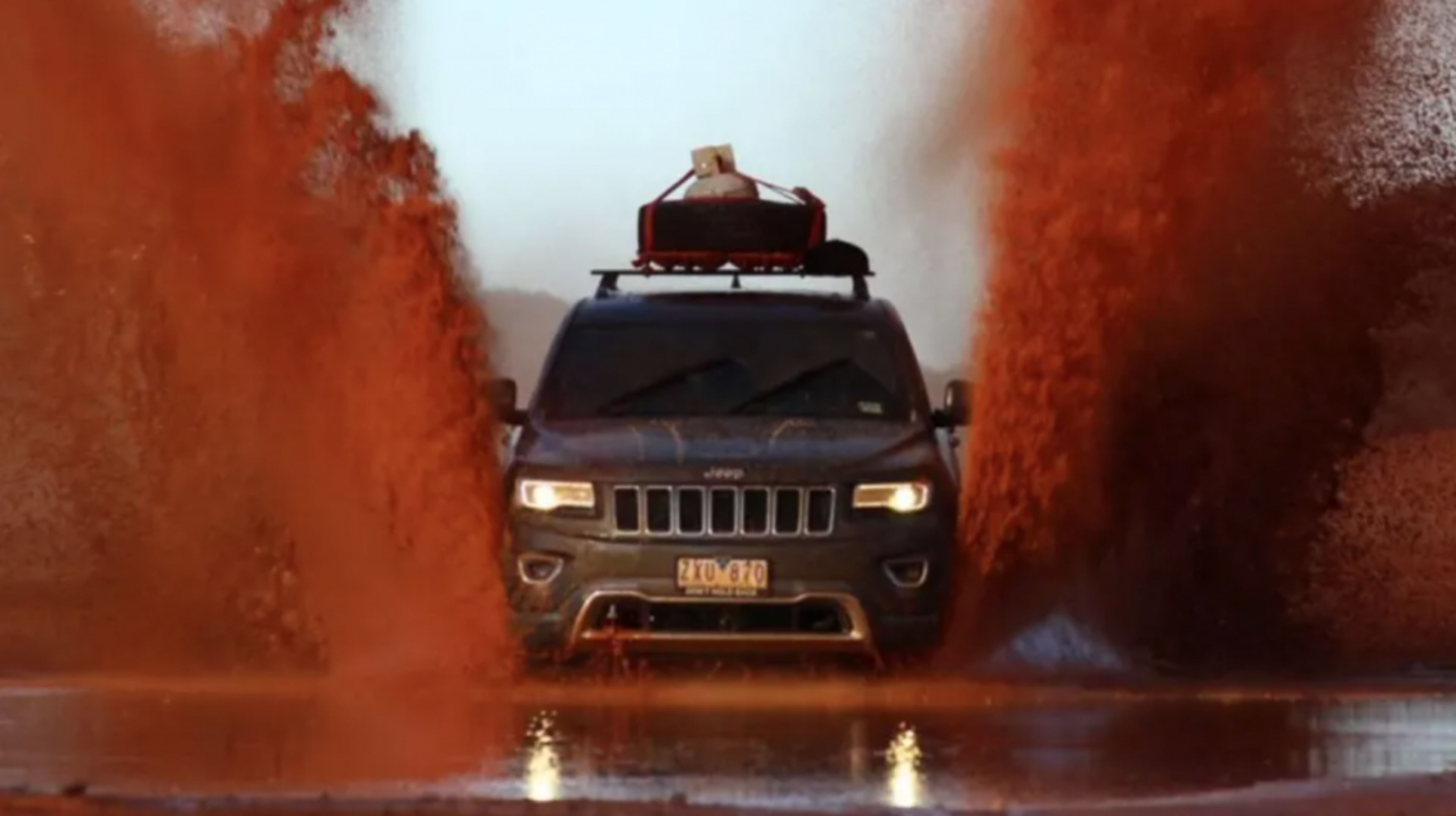 Beyond the remote Queensland outback town of Birdsville it was a different story, though. Heading west it's not long till the vast gravel roads turn to the challenging red sand dunes of the Simpson Desert.
Our Grand Cherokee had an early win. The usual array of adventurers trying to tackle some of the more challenging approaches to the Desert's western most dune, Big Red, had warned us of one particular ascent and how it took them 10 attempts in a modified LandCruiser to reach the top. Ours crested the dune on its second attempt.
We'd at least achieved some outback cred in a car that's not particularly common out here.
The ease with which it ascended the steep, soft sand is due largely to its clever four-wheel-drive system. Popping it in low range locks the centre differential, sending half the drive fore and aft. There's also traction control to reduce wheelspin.
But it was high range we ran for most of the desert, with the Quadra Drive 2 system able to apportion drive where the traction needed it. It's a clever system and one that makes light work of the slippery sand. It's helped by the mode button that has a specific Sand setting designed to allow some wheel slip to get over trickier dunes.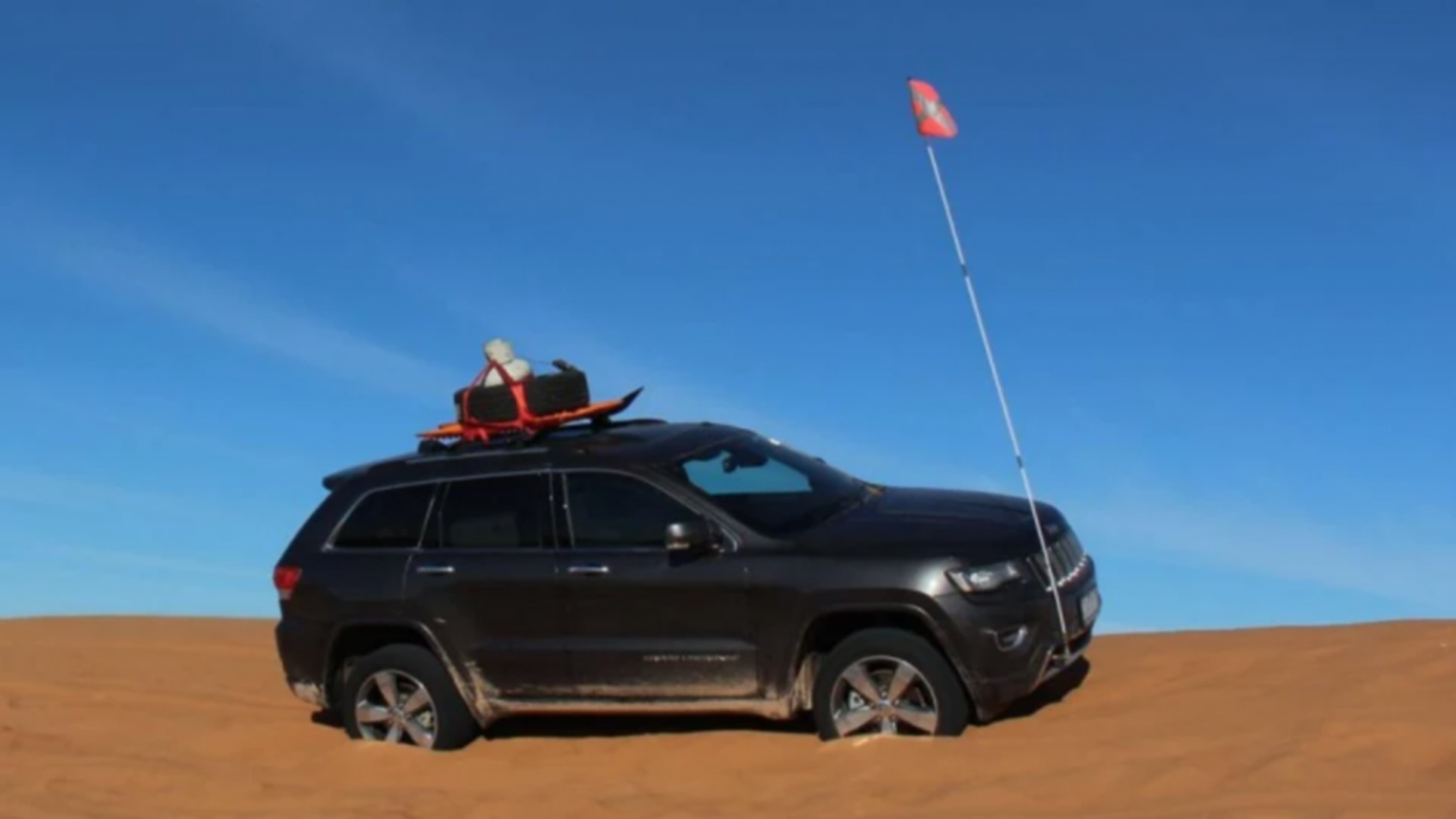 It also uses its towering 287mm ground clearance to good effect when the suspension is on its highest setting. Rarely does a brush with nature become an issue.
But that highest setting only lasts up to about 40km/h; above that speed it lowers slightly for stability. Given the occasional bursts of higher speeds between sand dunes it means you can be toggling back up to its highest setting for rougher terrain.
Perhaps the most annoying thing with the Grand Cherokee, though, is the position of the foot-operated park brake, which digs into your left shin over bumps (there are plenty of them out here).
The suspension can also be noisy, particularly when rebounding out of big bumps. It'll let out a disconcerting thunk before quickly settling and carrying on; it's difficult to get used to.
But it's on the rock-strewn roads on the eastern edge of the Desert where our first problem arises, and it's a predictable one – a flat tyre. It turns out to be the first of two, each damaging the susceptible (and small) sidewall of the predominantly on-road hoops.
After the second (which occurred later in our journey) we were forced to use the car's standard 18-inch spare tyre. It looks ugly on its black steel wheel, but because it's a proper size tyre (not a skinny temporary) it's arguably the best suited to these conditions.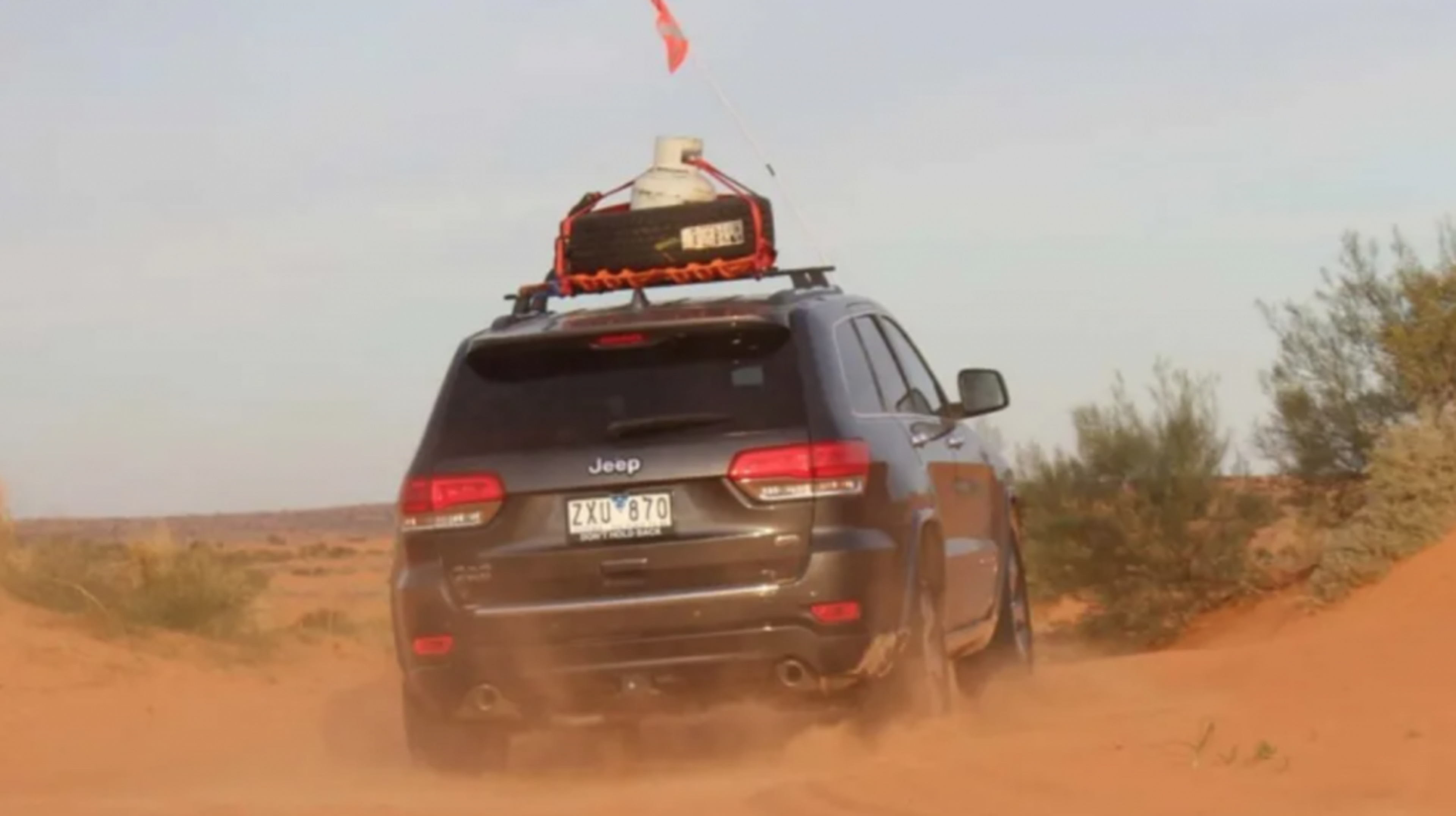 On the Northern Territory's Stuart Highway is where the Grand Cherokee excels, though. Its diesel engine easily charges up to the 130km/h limit and the car feels smooth and comfortable. It's a change from the more focused off-roaders, which can feel floaty and a lot less friendly above 100km/h.
Our final challenge was a big change from where we've been. The Finke Gorge follows the dry creek bed over rocks, sand and occasional challenging undulations. It's a demonstration of the good wheel articulation and short front overhang of the Grand Cherokee. For a comfortable, well featured off-roader it makes easy work of the slow but testing terrain.
After almost 3000km the Grand Cherokee has proved its mettle as a highly capable – and comfortable – off-roader. A worthy Car of the Year category winner.