Mitsubishi Outlander 5 Star Safety Rating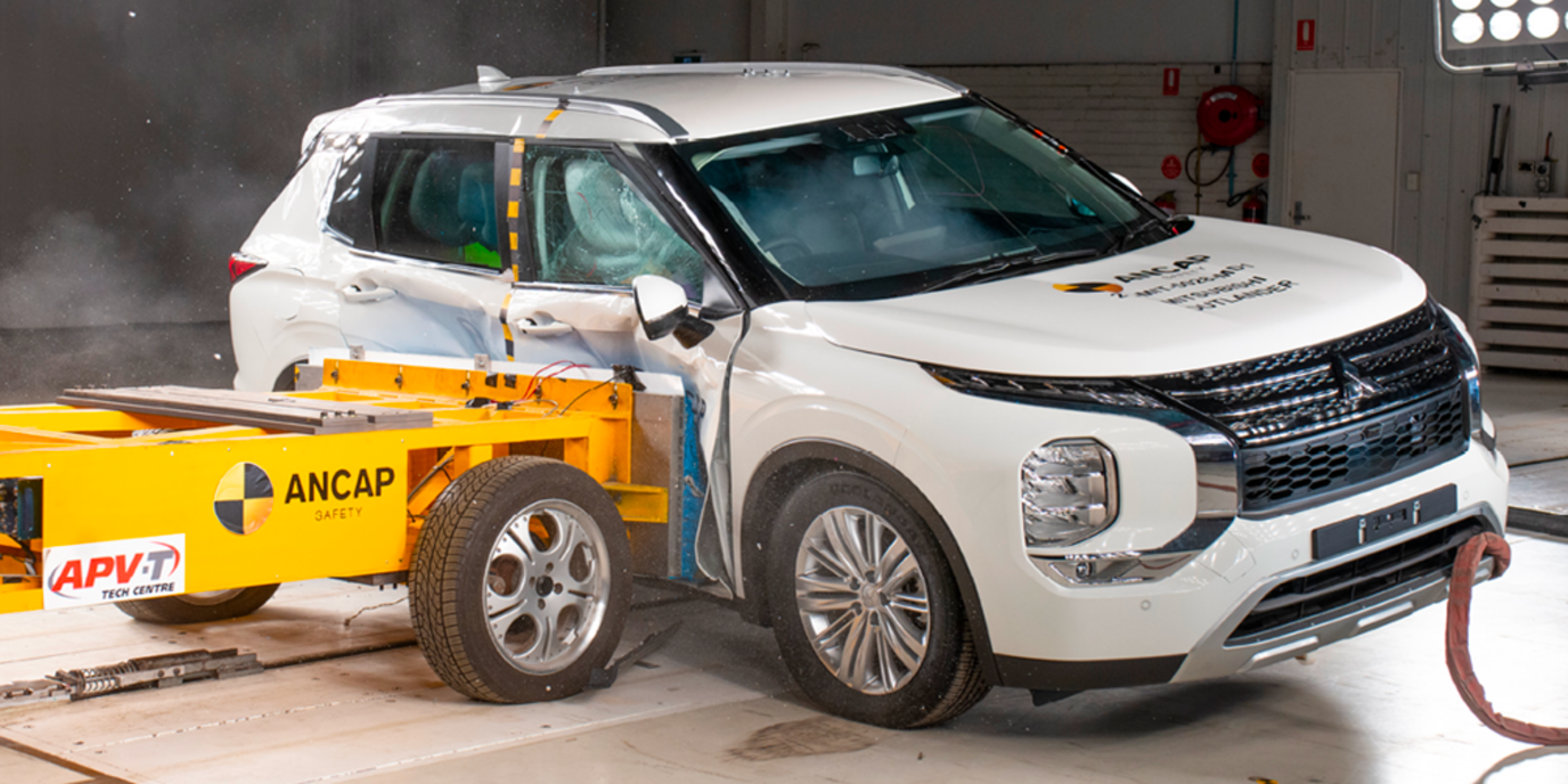 Tynan Motors - 18th January 2023
If you're looking for a large and safe SUV for your family, the Mitsubishi Outlander should be at the top of your list. Last year the Outlander achieved an outstanding 5-star safety rating from ANCAP Safety, the independent source for vehicle safety in Australia and New Zealand.
ANCAP's chief executive officer, Carla Hoorweg reported that "The new Outlander provides a good safety package and is a detailed offering." and "Mitsubishi have certainly prioritised the safety of both vehicle occupants and other road users in the recent Outlander, and must be applauded for this 5 star outcome."
All current 2.5-litre petrol variants of the Mitsubishi Outlander have achieved 5 stars, meeting the required thresholds across all four key areas of assessments which are listed below:
Vulnerable Road User Assessment
The Outlander scored full marks in adult occupant protection tests, and incredibly, in the Vulnerable Road User assessment it scored 81%, the highest of the medium SUV range - the second highest score among all vehicle categories.
Adult Occupant Protection Assessment
The Mitsubishi Outlander performed well in adult occupant protection tests, with full marks awarded in the side impact and oblique pole tests. The protection offered in the frontal offset (MPDB) and full width tests showed mostly adequate to good results, with some marginal readings recorded. The Outlander is fitted with a centre airbag, designed to reduce occupant to occupant injury in side impact crashes, however, it did not meet ANCAP's coverage requirements, and a penalty was applied.
Child Occupant Protection (COP) Assessment
It also achieved the highest score (92%) for ANCAPS 2020-2022 protocols in the assessment area of Child Occupant Protection (COP). This is an incredible testament to the outlander's commitment to safety.
Safety Assist Area of Assessment
Excellent scores were accomplished in testing the AEB system, which showed it was capable of reacting to other stationary, braking, and slowing vehicles, and testing of the Junction Assist system fitted showed the Outlander brakes to avoid crashes when turning across the path of an oncoming vehicle. Complete points were awarded for all safety tests of the Outlander's lane support system(LSS), containing emergency lane keeping and lane keep assist.
Safety within the Outlander
The Mitsubishi Outlander was able to perform at the highest level of safety thanks to Mitsubishi Motors Intuitive Technology or MiTECO12, which is an integrated system of brilliant innovations in action, working in unison to guide and protect, alert and connect, even entertain. It thinks like you and reacts like you before you even know it. Some of the MiTEC features include
Forward Collision Mitigation*

Predictive Forward Collision Warning*

Adaptive Cruise Control

Blind Spot Warning & Lane Change Assist*

Emergency Lane Assist

Lane Departure Warning

Lane Departure Prevention

Traffic Sign Recognition

Driver Attention Alert

Hill Start Assist

Hill Descent Control

Rear Cross Traffic Alert*

Multi Around Monitor*

Rear View Camera

Rear Automatic Emergency Braking*
* Depending on the model variant.
Live outlandish, with peace of mind. Talk to our team at Tynan Mitsubishi Kirrawee today as we have stock ready for immediate delivery. Call our team on (02) 8545 8888 or view our stock online here.