The Jeep Gladiator 4x4: A Perfect Adventure Companion for Outdoor Enthusiasts
Tynan Motors - 27th June 2023
For outdoor enthusiasts seeking a vehicle that combines rugged capability, versatility, and an open-air driving experience, the Jeep Gladiator 4x4 is a dream come true.
Born from the iconic Jeep Wrangler and infused with the utility of a pickup truck, the Gladiator 4x4 is designed to tackle off-road trails, transport gear, and provide an unforgettable adventure experience.
In this blog, we'll delve into the reasons why the Jeep Gladiator 4x4, available at Tynan Motors Kirrawee and Albion Park, is the perfect companion for outdoor enthusiasts, offering a blend of off-road prowess, versatility, and rugged style.
Unmatched Off-Road Capability:
At the core of the Jeep brand is its legendary off-road capability, and the Gladiator 4x4 lives up to this reputation. With its robust 4x4 drivetrain, high ground clearance, and solid axles, the Gladiator is built to conquer challenging terrains. It boasts features like heavy-duty Dana 44 front and rear axles, electronic locking differentials, and an available Rock-Trac® 4x4 system with a low-range transfer case, providing superior traction and control on rugged trails. The Gladiator's Trail Rated® badge is a testament to its ability to handle water fording, articulation, maneuverability, and traction on various surfaces.
Versatile Open-Air Experience:
What sets the Jeep Gladiator 4x4 apart from other off-road vehicles is its removable roof and doors, offering a unique open-air driving experience. With the top down and doors off, you can immerse yourself in nature, feeling the wind on your face and enjoying unobstructed views. Whether it's a scenic drive through the mountains or a beachside adventure, the Gladiator allows you to embrace the elements and fully connect with the outdoors.
Pickup Truck Practicality:
Beyond its off-road capabilities, the Gladiator 4x4 features a practical truck bed that adds versatility to your adventures. With a five-foot steel bed and a maximum payload capacity of up to 1,700 pounds, you can transport camping gear, bikes, kayaks, or other equipment with ease. The available spray-in bed liner and integrated tie-downs provide added convenience and protection, ensuring that your cargo stays secure during rugged off-road journeys.
Iconic Jeep Design and Customization Options:
The Gladiator's design pays homage to its Jeep heritage while adding distinctive pickup truck elements. Its bold and rugged exterior features Jeep's iconic seven-slot grille, round headlights, and trapezoidal wheel arches. The removable roof panels, fold-down windshield, and removable doors enhance its authentic Jeep aesthetic. Furthermore, Jeep offers an array of customization options, allowing you to tailor your Gladiator to suit your personal style and adventure needs.
Advanced Technology and Safety Features:
The Gladiator 4x4 is not just about adventure; it also prioritizes safety and modern technology. It offers advanced driver-assistance systems like blind-spot monitoring, forward collision warning, and adaptive cruise control to enhance safety both on and off the road. The available Uconnect® infotainment system provides seamless connectivity, while features like Apple CarPlay® and Android Auto™ integration keep you connected to your favorite apps and music during your outdoor escapades.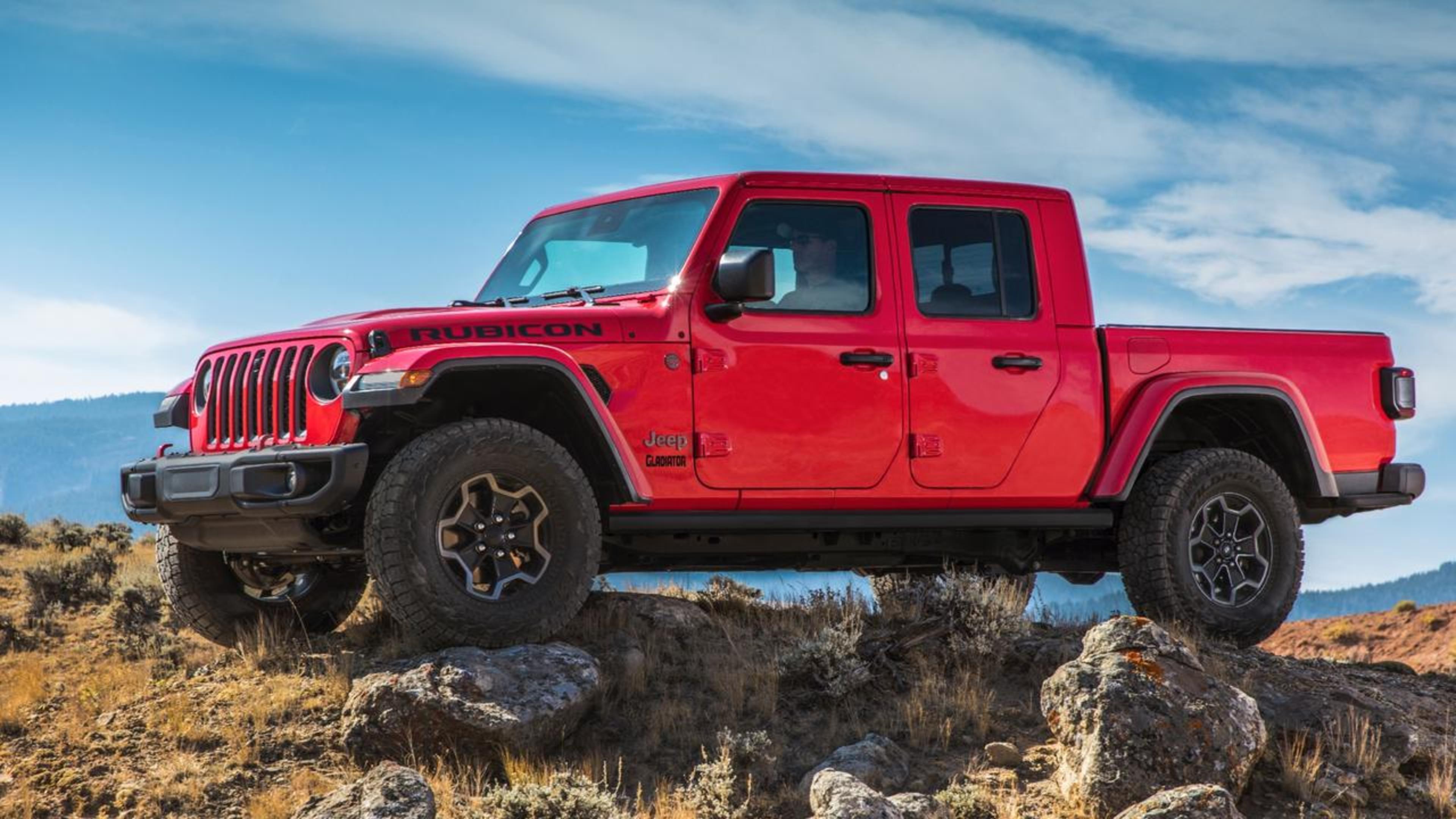 The Jeep Gladiator 4x4, available at Tynan Motors Kirrawee and Albion Park, is the ultimate vehicle for outdoor enthusiasts.
With its off-road prowess, versatility, open-air driving experience, and rugged style, the Gladiator 4x4 is ready to take you on unforgettable adventures.
So, gear up, get behind the wheel, and let the Jeep Gladiator 4x4 be your trusted companion on your next outdoor escapade.
Ensure you search the Jeep stock at the Tynan Showrooms, located in Kirrawee and Albion Park or online here.